I found the service offered by My Arcade Repair to be exceptional! Sarah is prompt, efficient, professional and reasonably priced. Her customer service skills are excellent. Sarah got back to me right away, promptly scheduled a service call and showed up as promised. Sarah demonstrates a strong ability to analyze problems and possesses the knowledge to handle complex work. She quickly diagnosed problems with my two pins and made recommendations, suggestions and precise, effective repairs. Sarah demonstrates a comprehensive knowledge of her field. My Arcade Repair has consistently exceeded my expectations. I would highly recommend her service.
Dave
Kingston, NH
I have been a collector/trader of vintage arcade games for some time now. In that time, I have come across a few so called repair techs who were nothing but amateur hackers. Their repair work would not last or it was a sloppy mess. After many bad experiences of trying to get the work done cheaply, I opted to take my games to the professional tech at a local (50 miles away!) arcade game repair shop. The service was good and the work was done correctly, but the prices (labor and parts) were outrageous.
Then one day I met Sarah. She was a collector too. She had happened to be a winning bidder of one of my eBay auctions and came to my house to pickup the game. We got to talking and she told me how she had the ability to work on all her own games. I told her how I had a monitor that was giving me fits and I needed to get it repaired. Right then and there she offered to take the monitor out of the machine and bring it to her place for repairs. I thought, why not! She was a lot more local than the professional repair shop and her price quote to fix it was very reasonable. It took Sarah about a week to get back to me with a fully cleaned and repaired monitor that I have not had a problem with since!
Sarah is not only talented, but very knowledgeable when it comes to game repair and restoration. Not only does she know video games, but she does fantastic work on pinball restorations. I have had a Bally KISS machine in my collection for some time. Like most of these machines out there, it had seen better days.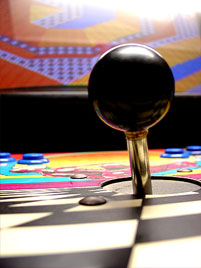 After seeing some of Sarah's own personal collection pinball restorations, I decided to have her do a complete playfield board swap for the KISS. Through the process, she made suggestions as to what should be replaced and fixed. She repaired all the boards that needed to be repaired and replaced parts that needed replacing. When I went to pick the game up, I was in shock as to how great it looked. It looked like it just came from the factory, inside and out. It is and will always be the pride of my gaming collection! Thank you Sarah!
Sarah is a true pro and a great person to deal with! You should not hesitate to have her help you with your gaming repairs. I will never go anywhere else for my game repair needs and neither should you!
Sincerely,
John S.
Danville, NH