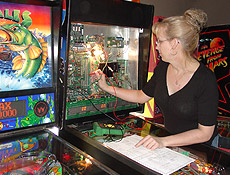 Services


WE REPAIR AND RESTORE ALMOST EVERY MAKE AND MODEL OF COIN-OP ARCADE GAME, FROM SIMPLE ROUTINE MAINTENANCE
TO THAT

NIGHTMARE!
If you're looking to start your own home game room with quality machines, then you've come to the right place. Or, if you already have the perfect game room, but are experiencing 'technical difficulties', My Arcade Repair LLC can help resurrect your dead, or just hanging on to its last quarter, Video Arcade Game or Pinball Machine.

REPAIR SERVICES: Pinball, Video Game, and Shuffle Alley
My Arcade Repair specializes in on-site (home or business) service and repair on most makes and models of electronic and electromechanical pinball, video game, and shuffle alley machines within the Nashua/Salem New Hampshire area. Also, depending on our current scheduling, we may also perform service calls outside our normal service area, provided travel expenses are covered at our current rates.
My Arcade Repair LLC can diagnose most problems in the field and provide professional, fast, and reliable Repair Service to most Coin-Op Arcade games. Services include:

Video Arcade Game Repair


Pinball Game Repair


Arcade Game Monitor Repair and "Cap Kit" Installations


Pinball & Video Game Printed Circuit Board Repair


Pinball and Video Game Parts/PCBs for sale


Troubleshooting and Repairing of most Video Game Monitor Problems
Video Games requiring monitor troubleshooting or repairs must be brought to our repair shop or arrangements made for pick-up. Only limited diagnosis of a problematic monitor can be performed as a home service. Services include repair on both X-Y Vector (For example and not limited to- Tempest, Black Widow, Star Wars & Star Trek) and Raster Video Monitors (For example and not limited to- Pacman, Ms. Pacman, Galaga, Donkey Kong). We only service Coin Op Video Arcade Monitors Only, no Televisions. We can test and repair the High Voltage, Vertical/Horizontal Deflection, and Video Synchronization sections.
Note- Replacement of major monitor components (flyback transformers, control pots, power transistors, CRT (picture tube replacement)) will increase the final cost of a monitor repair.
To obtain a fast repair estimate, please email us with a complete description of your problem including the name of your machine, along with your current address and phone number and we will get back to you within 24 hours. For immediate service, you may contact us via phone (978 764-4897).
*Our goal is to provide prompt, fast service and to be able to diagnose and repair your game in one visit if possible. We also provide you with a limited 7-day warranty on any work we perform.
Our 7-day warranty includes our repair work plus any new parts we install on your game for 7 days from the date of repair. We only warranty the specific work that My Arcade Repair has done on your game and the parts we have installed, nothing else. The Warranty is void if another company or the owner performs additional repairs. Except for one manufacturer (Stern), new pinball games are no longer produced. This means that 99% of the games we work on are at least several years old and can be as old as fifty years old! This is equal to tens of thousands of plays on each game. Obviously, considering the game's age and the wear/tear it has experienced during it's life, we cannot promise that your game will never break again. Pinball machines are very complicated devices with numerous electronic and mechanical parts that require regular maintenance.
My Arcade Repair specializes in coin-operated games made by Gottlieb, Williams, Bally, DataEast, Midway, Sega, Stern, Chicago Coin (CCM), Genco, Mutoscope, United and many others.
Additional Services Available within our Service area:
Pinball Playfield Tune-up
Clean playfield *, polish plastics *, clean playfield glass, clean back glass, replace pinballs $95
Economy Pinball Playfield Shop
Clean/wax playfield *, replace damaged rubber *, polish plastics *, replace burnt bulbs, clean playfield glass, clean back glass, replace pinballs, clean/adjust switches (non-EM) $125
Full Playfield Shop
Clean playfield, wax playfield traffic areas, replace rubber, polish plastics, replace burnt bulbs, clean playfield glass, clean back glass, replace broken posts, replace broken lane guides**, replace pinballs, clean/adjust/replace switches **, adjust/replace pop bumpers **, adjust/repair/rebuild flippers **, replace damaged coils** $150+
Video Game Tune-up/Well-being
Clean monitor screen & glass, adjust monitor, clean control panel, check/adjust power supply, check/adjust control panel switches $75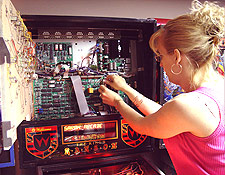 Monitor Repair Service Rates: $70 per hour (one hour minimum) $35 diagnostic fee (If non-repairable) Commercial discounts available for multiple monitors of the same model and type.

Capacitor Kit Installation $85
(Includes cost of Capacitor Kit)
Picture Tube Degaussing $10 per CRT (clears up the wrong colors on the screen)
* We use Novus® 1,2,3 and Wildcat® cleaners
** Parts are extra

MY ARCADE REPAIR RATES & HOURS OF OPERATION
We offer a competitive hourly rate for on-site (home or business) service. Our hourly rate applies to time spent working on your game. Parts and supplies are additional. We are available by appointment. Our business hours are 9:00 AM until 9:00 PM EST, and we are open 7 days a week for your convenience.

On-site Service (0-20 miles from Pelham, NH) $75/hr (plus parts)


On-site Service (*21-40 miles from Pelham, NH) $85/hr (plus parts)


On-site Service (*41-60 miles from Pelham, NH) $95/hr (plus parts)


Drop-offs & pick-ups at our shop are always welcome by appointment only


Shop Rate $65/hr (plus parts)
*A $30 fuel charge will be added for service calls 21 miles and over from Pelham, NH.
Contact My Arcade Repair, LLC if you require further information or need an estimate.
We can usually schedule a specific time window to come out and diagnose and repair your game. Service and repair work can be done in our shop if needed or required, or we can make a service call to your location if you are within our local service area. Our rates apply to any time spent working on your machine(s). There is no charge for travel time when located within our service area. If a machine has previously been well maintained, a typical service call may only take an hour. Unfortunately there are cases where it can take more than one trip to repair a machine. Since it is impossible to have every part for every machine in stock and with us, the first trip is usually to diagnose the problem and order parts. The second trip is usually to install the new parts.

MY ARCADE REPAIR SERVICE AREA
Our normal service area covers up to 60 miles from the Pelham (Nashua/Salem) NH area. Additional fees and certain restrictions apply for any work done outside this area.

MY ARCADE REPAIR SPECIALIZES IN SELLING:
Arcade Video Games,
Pinball Machines,
Juke Boxes,
All types of coin-operated equipment.

We are always looking for good quality Coin-Op Arcade, Video, and Pinball machines, (working or not) to replenish our used game parts and for sale inventories. We're interested in the following Coin-Operated Games:
Video Games, Electro-Mechanical and
Electronic Pinball Machines,
Electro-Mechanical Gun Games and
Mechanical Slot Machines.
If you want to sell or are looking for a removal service to take some of the above listed games off your hands, please feel free contact us. Thank you.